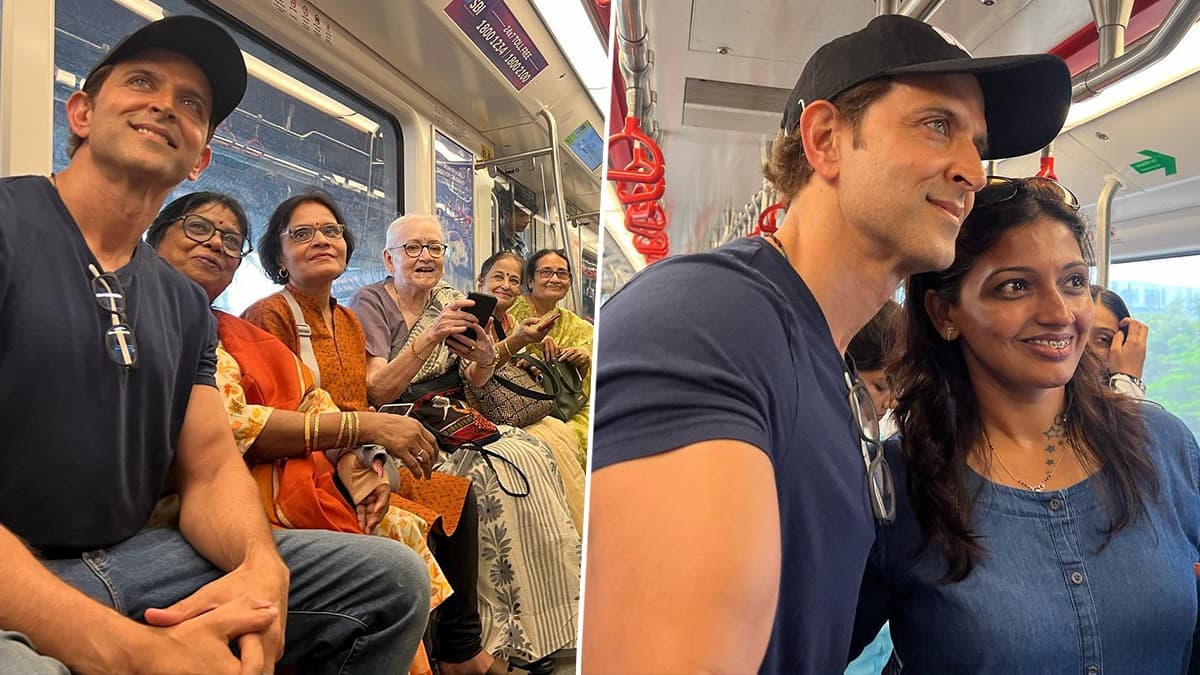 In a refreshing departure from the usual glitz and glamour,
Bollywood's beloved 'Greek God'
,
Hrithik Roshan
, opted for an eco-friendly mode of transport recently, choosing to take a metro ride to work. Leaving his swanky car behind, Hrithik blended in seamlessly with fellow commuters, showcasing a down-to-earth side that left fans in awe.
Embracing the Metro Experience
Taking to his
Instagram account
, the actor shared a series of captivating photos and videos, providing an intimate look at his metro journey.
Sporting
a stylish
navy blue half-sleeved t-shirt
and a matching
cap
, Hrithik's toned physique was on full display, garnering admiration from fans of all age groups.
The heartwarming images capture moments of
Hrithik
graciously
taking selfies with fans
, predominantly females, who couldn't contain their excitement at encountering their favorite actor.
A Spectacular Commute
In his post caption, Hrithik expressed his delight at the experience, stating, "
Took the metro to work today. Met some really sweet n kind folks. Sharing with you the love they gave me. The experience was spectacular. Beat the heat + the traffic. Saved my back for the action shoot I'm going for.
"
Social Media Stamp of Approval
The post received a seal of approval from Bollywood stalwarts.
Alia Bhatt
and
Ayushmann Khurrana
extended their likes, while Hrithik's ladylove,
Saba Azad
, left a comment filled with love. Notably, actor
Gajraj Rao
expressed his admiration with a fire emoticon.
Fans' Verdict
The images quickly took Instagram by storm, with fans flooding the comments section with words of admiration and praise for Hrithik's down-to-earth demeanor. Comments like "
Celebrity who believes to live a common man's life. Hat's off to you sir
" and "
Such a pyaaara human
" were among the many accolades.
On the Workfront
In the realm of films, Hrithik is set to enthrall audiences with an aerial
action drama
titled '
Fighter
'. The movie boasts a stellar cast including
Deepika Padukone
and
Anil Kapoor
, promising an adrenaline-pumping cinematic experience.