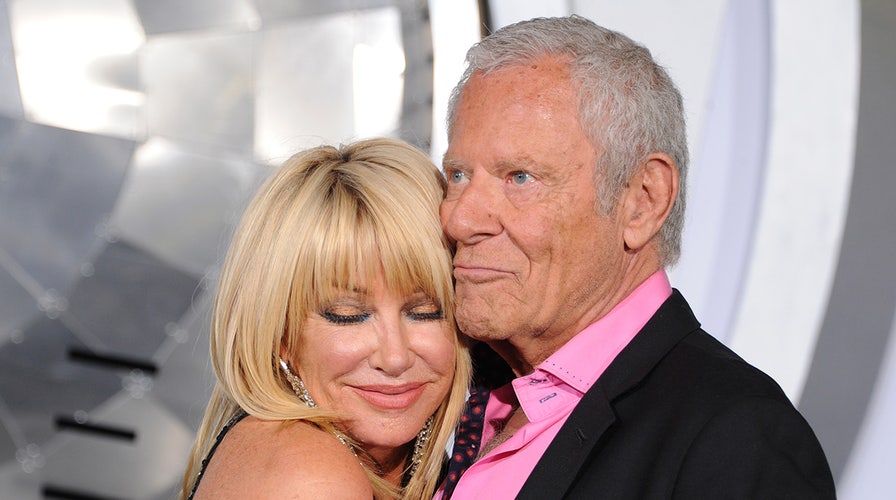 The
entertainment industry
has lost an icon.
Suzanne Somers
, renowned for her memorable portrayals of the vivacious
Chrissy Snow
in
Three's Company (1977-1981)
and the determined
Carol Foster Lambert
in
Step by Step (1991-1998)
,
passed away on October 15
, after an unwavering 23-year battle with breast cancer, just a day shy of
her 77th birthday.
Her departure leaves a void in the hearts of her millions of admirers, from family and close friends to fellow celebrities.
A Testament of Love: Alan Hamel's Tribute
Alan Hamel
, Suzanne's devoted
husband of 55 years
, penned a touching declaration of his eternal love on her
Instagram account
. His poignant message concluded with a heartfelt proclamation: "
I AM IN LOVE WITH YOU, MY BEAUTIFUL SUZANNE, FOR ALL OF ETERNITY
."
Suzanne's only son,
Bruce Somers Jr
., shared a beautiful tribute, painting a portrait of a courageous warrior who faced fears to illuminate the path for others. He lovingly described her
as a friend, wife, sister, daughter, entertainer, icon,
and
legend,
but above all, as his Mom, a title he cherished dearly.
Joyce DeWitt's Reflections
Longtime friend and
Three's Company
co-star,
Joyce DeWitt
, expressed her condolences, recognizing the profound bond within
Suzanne's close-knit family
. She offered solace, envisioning Suzanne embraced by angels on the other side, imparting wisdom to heal the hearts of her grieving family.
Actress
Jane Seymour
shared a touching tribute, recounting moments of shared triumphs and adversities. She concluded by affirming that
Suzanne
's spirit would forever reside in the hearts of those who loved her.
Courteney Cox's Fond Remembrance
Actress
Courteney Cox
paid homage to
Suzanne
with a
heartwarming video
in celebration of what would have been her
77th birthday
. She remembered Suzanne for her zest for life, and expressed her sympathy to Alan and the family.
Sandra Lee's Grateful Farewell
Renowned home and lifestyle guru,
Sandra Lee
, bid farewell to Suzanne with a tribute that captured her
kindness, generosity,
and
wisdom
. She expressed gratitude for
Suzanne's guidance
on matters of health and longevity.
Barry Manilow's Tribute to a Dear Friend
Singer-songwriter
Barry Manilow
, a cherished friend of Suzanne's for over four decades, illuminated her multifaceted talent. He remembered her not only as an entertainment luminary, but also as
an exceptional comedic actor
, devoted mother, accomplished homemaker, and
culinary virtuoso
.
Deborah Roberts' Acknowledgement
ABC Journalist
Deborah Roberts
acknowledged Suzanne's remarkable journey, highlighting her enduring spirit in the face of a
decades-long battle
with
breast cancer.
She paid tribute to Suzanne's iconic portrayal of "
Chrissy
" in the beloved show
Three's Company
.
Conclusion
Remembering
Suzanne Somers
is a testament to a life lived with
courage, love,
and
an unwavering spirit.
Her legacy extends far beyond the screen, touching the hearts of those who knew her and the millions who admired her from afar.
Suzanne Somers
will forever remain an inspiration, a beacon of strength, and a source of joy. Her memory will live on in the hearts of all those she touched.