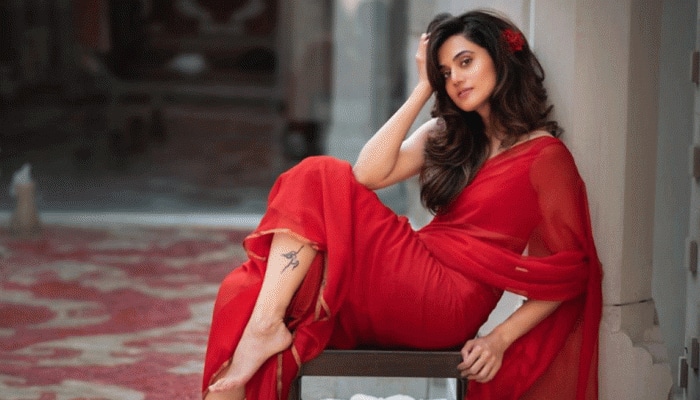 In the glitzy world of
Bollywood
, where glamour and stardom reign supreme, actress
Taapsee Pannu
has recently thrown a spotlight on the industry's double standards. Her debut production film, '
Dhak Dhak,
' aimed to challenge the status quo, showcasing a female-oriented narrative with a stellar ensemble cast. However, what caught our attention was Taapsee's bold move to distance herself from the film's promotions, sparking a heated debate about Bollywood's 'star system' and its selective preferences.
Taapsee's 'Dhak Dhak' and the Star System
In her recent
interview with ETimes
,
Taapsee Pannu
didn't hold back her thoughts. She began by drawing a parallel between her debut production, '
Dhak Dhak
,' and
Shah Rukh Khan's 'Jawan.'
Taapsee argued that smaller films like hers need a little push, especially when competing in an industry dominated by star power. She deconstructed the myth of 'content is king,' revealing how it crumbled while making '
Dhak Dhak
.'
The Hypocrisy Unveiled
Taapsee unmasked the industry's hypocrisy, emphasizing how they determine their financial and emotional investments based on one crucial question: "
Picture mein actor kaun hai?
" This single query becomes the litmus test for a film's worth. As an actor herself, Taapsee confessed she never concerned herself with co-stars or the makers' stature when signing a movie. Her journey has often led her to work with first-time directors and co-stars who were newcomers, an approach not commonly shared by the industry.
Taapsee's Perspective on 'Dhak Dhak'
She didn't stop there. Taapsee shared that '
Dhak Dhak
' is an incredibly interesting story. Together with the film's makers, she left no stone unturned to ensure it delivers a great visual and emotional experience. However, the unfortunate reality is that the entire system revolves around stars, even extending to the
OTT platforms
. She lamented the late release of the film's trailer, citing comments like "
Yeh female-oriented hai, sirf niche audience aayegi, itnay shows nahi milenge, baad mein OTT pe aani hi hai so why stress?
" It's this mindset that needs a change, especially for smaller films that deserve a fair chance to be seen.
The Blame Game
In a parting shot,
Taapsee Pannu
pointed the finger at the entire culture, asserting that everyone involved, from actors to studios, and even the audience, shares responsibility for the perpetuation of the star system.
Now, let's break down this thought-provoking interview piece by Taapsee Pannu.
Taapsee's Debut Production: 'Dhak Dhak'
A Game-Changing Film
Taapsee Pannu's '
Dhak Dhak
' is not just another film; it's a statement. The actress-turned-producer seeks to challenge the conventions of Bollywood, where male-dominated narratives often take center stage. With
Ratna Pathak Shah
,
Dia Mirza, Fatima Sana Shaikh,
and
Sanjana Sanghi
in prominent roles, this female-oriented flick is an endeavor to promote diversity and women's empowerment in cinema.
Taapsee's Bold Step
Taapsee's choice to distance herself from 'Dhak Dhak's promotions wasn't a whim but a calculated move. She aimed to shed light on the skewed priorities of the industry, where star power eclipses the essence of a story. This bold step led to a
critical examination
of the star system that has long dictated the fate of movies in Bollywood.
Unmasking Bollywood's Hypocrisy
The Illusion of 'Content Is King'
In her
interview
, Taapsee Pannu expressed her shattered belief in the industry's commitment to '
content is king.
' Despite working tirelessly on '
Dhak Dhak
,' she realized that the pivotal question of "
Picture mein actor kaun hai?
" overshadows the film's merit. The emphasis on casting choices over storytelling is a stark example of Bollywood's entrenched hypocrisy.
The Actor's Perspective
Taapsee's stance is that actors are not the ones perpetuating this hypocrisy; it's the system that demands star-studded casts to guarantee box office success. She candidly admitted that she never inquired about her co-stars or the directors' fame when signing a movie, emphasizing the importance of the story itself. This approach, while commendable, is not always embraced by the industry.
Taapsee's Perspective on 'Dhak Dhak'
A Labor of Love
Taapsee Pannu
and the film's makers poured their hearts into '
Dhak Dhak
,' ensuring that it offers a remarkable visual and emotional experience. Their commitment to the project reflects a passion for storytelling that often gets overshadowed by the obsession with star power.
The Struggle of Smaller Films
Taapsee's frustration with the late release of '
Dhak Dhak's trailer
highlights a common challenge faced by smaller films. The dismissive attitude of certain quarters in the industry toward niche content can be detrimental to their success.
'Dhak Dhak'
and other similar films deserve a fair chance to reach their intended audience.
The Blame Game
A Collective Responsibility
In concluding her thoughts, Taapsee Pannu doesn't lay the blame solely on one group within the industry. She asserts that
actors, studios,
and even the
audience share a collective responsibility
in perpetuating the star system. It's a cultural issue that requires a collective effort to change.

Now, the stage is set for a question to you. How many of you agree with Taapsee Pannu? Do you think the star system in Bollywood hinders the growth of smaller, content-driven films? Share your thoughts and let's keep the conversation going.